Today Asteroid 2012 DA14 had a part of it break off and crash in Chelyabinsk, Russia, east of Moscow. Back on Jan 4th I blogged about listening to the radio and the station cutting out completely when a caller talked about an asteroid hitting the earth. My friend came across 2012 DA14. Was this fraction of asteroid know about in advance? What's in store for the next one which is bigger and passes closer?
Friday, April 13, 2029 Asteroid 2004 MN4
Keep an eye out for that one.
This is from 2004 when it passed us last time and farther away.
the following from http://science.nasa.gov/science-news/science-at-nasa/2005/13may_2004mn4/
The asteroid is about 320 meters wide. "That's big enough to punch through Earth's atmosphere," devastating a region the size of, say, Texas, if it hit land, or causing widespread tsunamis if it hit ocean, says Chodas. So much for holiday cheer.
Asteroid 2004 MN4 had been discovered in June 2004, lost, then discovered again six months later. With such sparse tracking data it was difficult to say, precisely, where the asteroid would go. A collision with Earth was theoretically possible. "We weren't too worried," Chodas says, "but the odds were disturbing."
On April 13, 2029, asteroid 2004 MN4 will fly past Earth only 18,600 miles (30,000 km) above the ground. For comparison, geosynchronous satellites orbit at 22,300 miles (36,000 km). "At closest approach, the asteroid will shine like a 3rd magnitude star, visible to the unaided eye from Africa, Europe and Asia--even through city lights," says Jon Giorgini of JPL. This is rare. "Close approaches by objects as large as 2004 MN4 are currently thought to occur at 1000-year intervals, on average."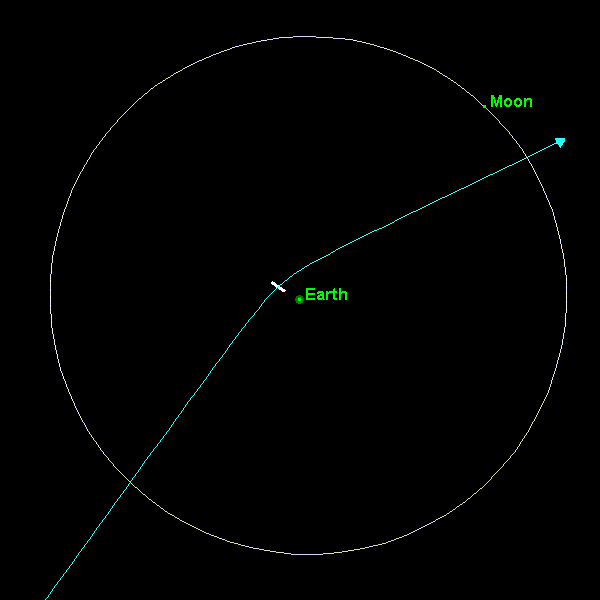 The asteroid's trajectory will bend approximately 28 degrees during the encounter, "a result of Earth's gravitational pull," explains Giorgini. What happens next is uncertain. Some newspapers have stated that the asteroid might swing around and hit Earth after all in 2035 or so, but Giorgini discounts that: "Our ability to 'see' where 2004 MN4 will go (by extrapolating its orbit) is so blurred out by the 2029 Earth encounter, it can't even be said for certain what side of the sun 2004 MN4 will be on in 2035. Talk of Earth encounters in 2035 is premature."